ITO signed a support agreement with the Japan Women's National Volleyball Team (Hinotori Nippon)
2023.07.18
We are delighted to announce that ITO has recently signed a support agreement with the Japan Volleyball Association (JVA), a public interest incorporated foundation, for the 2023 Japan Women's National Volleyball Team, known as "Hinotori Nippon."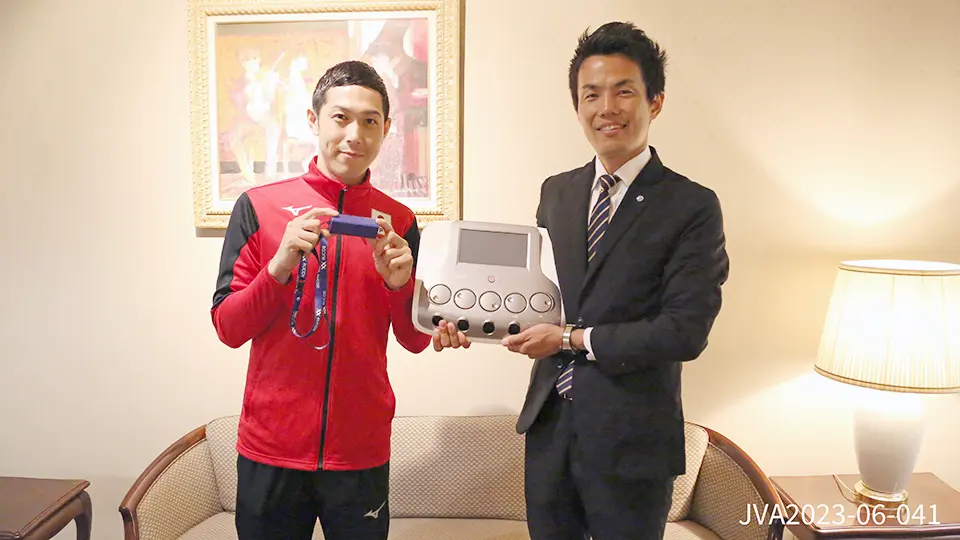 Left: Mr. Yuya Nagatomi, trainer of the Japanese women's volleyball team / Right: ITO SPORTS PROJECT staff
Background of the Agreement:
The agreement stems from the demanding schedule of the players in the Japan Women's National Volleyball Team, who divide their time between playing for their club teams and representing Japan on the international stage.
Our company has been supporting the women's national team collaborating with previous trainers and supplying ultrasound therapy devices during overseas tours and important tournaments.
Through this agreement, we will provide our combo device equipped with both electro stimulation and ultrasound, allowing the team to utilize it for treatment, injury prevention, and conditioning not only during overseas tours but also throughout the entire duration of the women's national team activities.
Furthermore, we will also offer the portable self-care device "RUCOE RUN" for easy personal self-care.
ITO remains dedicated to supporting the team's accomplishments by providing high-quality physical therapy equipment, ensuring that the players can perform at their absolute best.