I want to communicate the joy of gymnastics.
Beyond the big stage to a new goal
March 25, 2022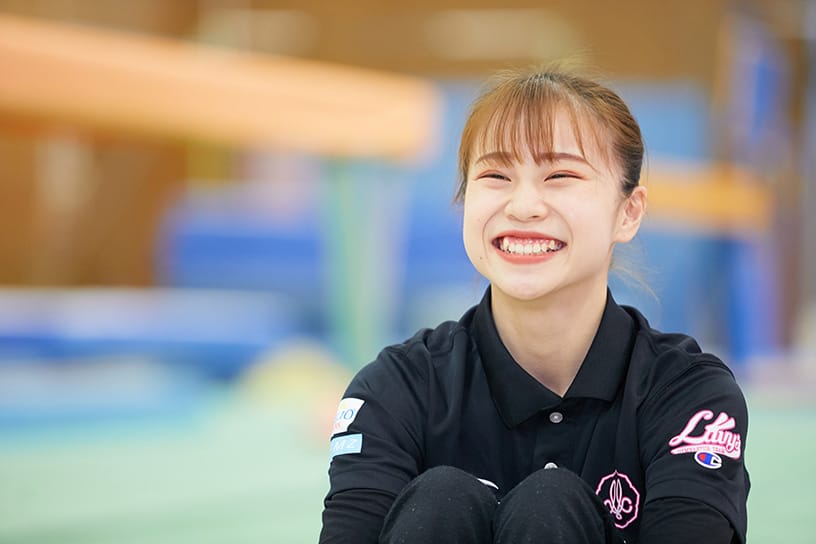 Being oneself and staying positive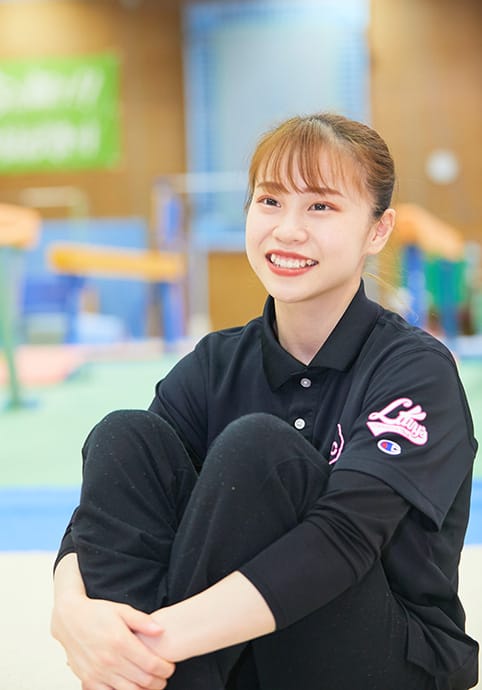 ITO: It must have been difficult, with COVID-19 changing the schedules of various competitions. What are you doing with your time after last summer's competition? That was your major career goal.

Sugihara: When COVID happened in spring 2020, I couldn't practice for two months. Thanks to the cooperation of many people, however, competitions started to be held again, though with no spectators at the events. I learned what to be careful about, which made it possible to continue competing.

After the competition, which was my biggest goal, was over, I had knee surgery in October last year. Then I took it easy and rested. I'd set my sights on that competition my whole life, so I wondered what my goals would be after that. After the start of the New Year, I set my sights on competing in a discipline-specific competition in June 2022. Now I'm in the process of gradually resuming my training and enjoying gymnastics.
ITO: You have a striking move named after you, the "Sugihara" [a double turn on the balance beam], which spectators find amazing due to its extreme difficulty. But I think the real fun in watching you perform lies in seeing your clear love of gymnastics and your desire to entertain audiences using your favorite artists' songs and the choreography in your floor exercises. What about gymnastics appeals to you?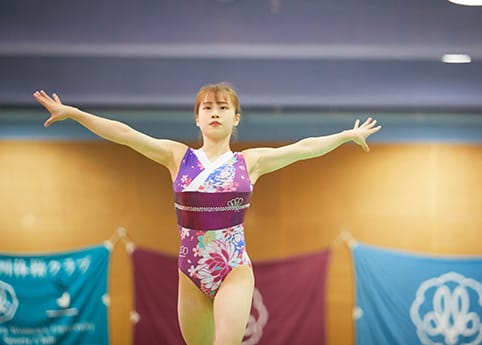 Sugihara: I want to create a space where those watching can somehow feel involved in my performance. One of the great things about gymnastics is the excitement of watching difficult moves performed easily and gracefully, watching a human body precisely controlled in movements that might seem impossible. I want those who see my performances to have a great time.

I think one of my strong points is that I'm always positive. Failure is discouraging and energy-sapping, but it's precisely at times like that that I think about how I can make things fun for myself. Since enrolling at Mukogawa Women's University, independence has become more important in my training. I think about things more than I did before. For example, I now spend more time on things I want to focus on. That way I can express myself better. I also think the ability to stay positive has a lot to do with moving my base of activities back to the Kansai region. I went from living alone to living with my family, who are always in high spirits.
The importance of understanding self-conditioning
ITO: So, it's your positive attitude that makes your energetic performances possible, even in challenging times. But as fun as it looks, all those acrobatic moves have to take a toll on your body. What's your training schedule, and how do you maintain your physical condition?

Sugihara: Until last summer, I took time away from my university studies to devote myself to competition. I typically had two practice sessions every day: three hours of training in the morning, mainly training to build up the body and tailored training planned by my trainer, then about four hours of actual practice in each category in the afternoon. If I felt unusually tired, I'd limit myself to two hours of light training one day a week. My training routine also included a full rest day each week, no matter what.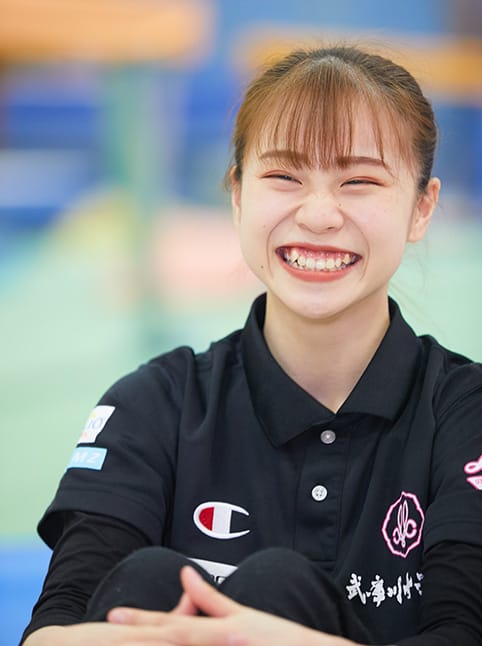 As for conditioning, the gymnastics club receives support and advice from Dr. Tomomi Imamura, a researcher in applied nutrition at the university, who assesses our body composition once a month. I found I feel more comfortable when my body fat percentage is around 6.5 to 7.5%. I use this as a guide for making adjustments. Women can't lose too much weight by reducing fat due to the effects on the menstrual cycle. Your body also retains more water and tends to swell just before your period, so measurements at those times give different results. It's important for me to know where I am physically to be at my best in my routines. Bit by bit, I've developed a sixth sense for my physical state. A little while ago I happened to feel a little heavy—and when I weighed myself, I found I'd gained a few hundred grams.
ITO: You became Japan's number one at the age of 15 and made the national team in your first year of high school, which is a time when many athletes compete at the top level, during their teens. I guess in some ways your understanding of your own body lagged behind your success.

Sugihara: I really didn't think much about any of that until I was about 15. [laughs] Even with no special attention or care, my body always felt light and flexible. I never got seriously injured. But fatigue and pain started to crop up more often in my late teens. At 19, I missed the World Championships I'd qualified for in 2018 because of back pain. That's when I realized the importance of caring for my body.

Now, I'm pretty careful about talking to those who support me every day about my physical state—for example, asking the trainer who handles my massages how tense my muscles seem. I also try to get seven hours of sleep.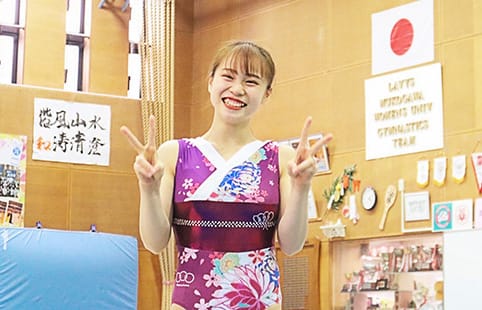 ITO: How did you get to the point where you felt you had a better feel for your physical state?

Sugihara: I have two main patterns of feeling less than ideal. I'll feel tired and slow. Or I'll feel a bit uncoordinated due to swelling, like just before my period. When I'm like that, I can't execute the moves. But that's not because my technique is bad; it's because where my physical state happens to be. So I try to avoid doing too much, to avoid pushing myself too hard. I lower the tempo of the moves, perform easier ones, or just take some downtime.

I used to get frustrated when I couldn't execute a move the way I wanted. I'd keep trying. But moving without taking into account day to day differences in your physical state puts way too much stress on your body. I've been injured because I pushed myself too hard, when my physical state wouldn't let me pull off a move, or because I was in great shape and couldn't maintain control when my body moved too much. If you know where your body is, the state of your body, and understand that muscle response is the problem, you can address the problem by performing certain movements that stimulate the nervous system before starting actual training. This affects your performance in competition, too. I think it's important to practice self-care and to learn how to monitor your own condition.
Experiencing the benefits of self-care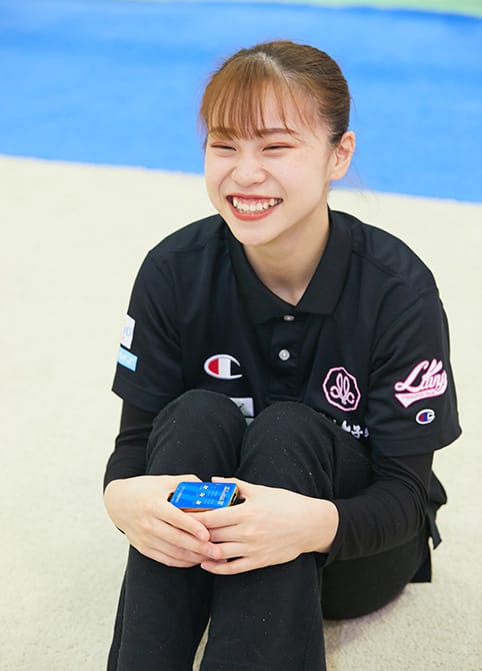 ITO: One form of self-care involves using treatment devices. You've been familiar with them since you were a child because they were in your parents' home. When did you start using them? And how do you use them?

Sugihara: My parents purchased the treatment devices in the home for my four-year-older sister, who was doing gymnastics. At first, I just wanted to use what my sister was using. I'd say something like, "I have a pain here"—even if I had no pain anywhere! [laughs] I think the first time I consciously used them as treatment devices was when I was in high school.

Now, I use microcurrent fairly often to speed up recovery— for example, if I have muscle pain. I do this almost daily. After a bath, I have an oil massage, wipe off the oil, then apply microcurrent. I keep it on until I wake up the next morning.
When my body is doing really badly, the pain used to wake me up. That doesn't happen as often now. If I go to bed without using microcurrent because I forget, I'll wake up feeling the same as the day before. I definitely feel better the next day if I use the treatment device.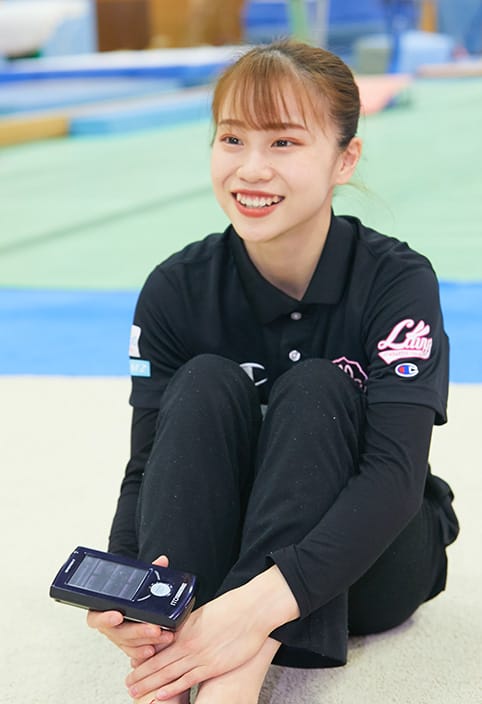 ITO: Can you recall specific times when the treatment devices made a significant difference?

Sugihara: Sugihara: I haven't mentioned it to the media, but from the winter of 2019 to the spring of 2020, the navicular bone in my right foot was injured. It was one step from a complete fracture. I'd injured the left ankle before the World Championships in October 2019, but I made up for it by shifting the strain to my other foot. I had surgery when COVID postponed the summer competition. After the surgery, I used the compact ultrasound bone growth stimulator for 20 minutes at a time. I'd do that two or three times a day. I was skeptical that just continuously applying it to the injured area would help it heal, because you don't feel anything. But it reduced the pain within a few days. I ended up being able to return to action about two months earlier than planned, which surprised me. I also used a small EMS device around that time to stimulate the calves and to stimulate muscles I hadn't been using.

Later, in about July of the same year, when I injured my left ankle and nearly ruptured a ligament, the doctor recommended I use it three times a day. That's when I was training intensively because I really wanted to do a double twist on the vault at the competition. So I was worried I wouldn't be able to do it, and that I might not make it in time for the competition. It was the student championships and summer competition qualifications season. I really didn't want to find myself thinking, "If I had had just one more week before the tournament..." It helped me cut my treatment time and get back to training sooner.
ITO: Do you use the treatment devices mainly only when you're injured? Do you use them only at home?

Sugihara: No. ITO's microcurrent device is small and portable, so when I was traveling to compete overseas, I used it on the plane to take care of my calves and other parts of my body. Sometimes in the practice sessions right after arriving, my muscles seem to respond poorly. But I didn't experience that. That was a noticeable benefit. At the summer competition, I brought an ultrasound bone growth stimulator with me to the athletes' accommodations. I used it in my room because I'd injured my tibia in practice just before. I like being able to use it myself even if overnighting away somewhere for a competition.
I want to continue being involved in gymnastics, as I love it so much.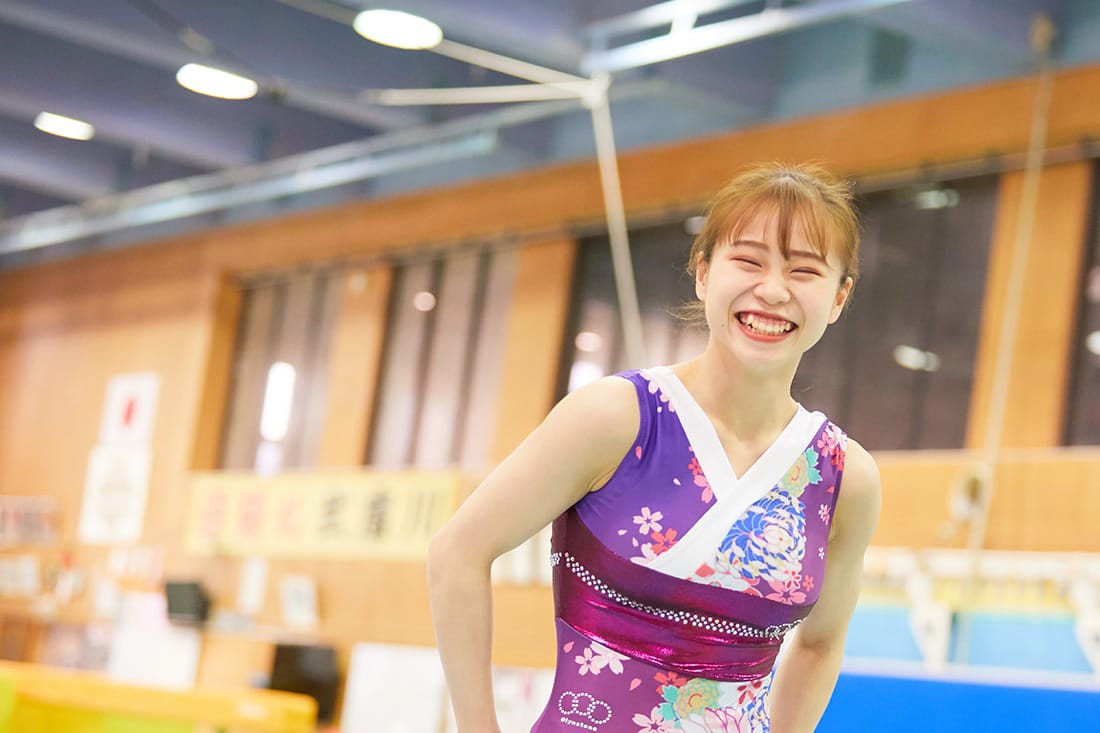 ITO: Twice you've competed on the big stage all gymnasts dream of, even while battling injuries. What are your goals moving forward? What are your ambitions for the future?

Sugihara: In terms of competitive performance, I've only recently decided on my goals for the next competition. I can't think too much about what lies beyond just yet. I'm currently an athlete and student coach, and am thinking about pursuing a career in coaching. I've also started studying competition judging and English. Since artistic gymnastics remains a bit of a minor sport among the general public at this point, I'd like to broaden its appeal and try reach as many people as possible—for example, by performing at exhibition events.

I've participated in the world competition twice, a goal I'd always had my sights on. That's thanks to the support of the people around me. I'm incredibly grateful, and also proud of my achievements. I love gymnastics, and have done so for a really long time, so I'd like to stay involved in it in some way if I can.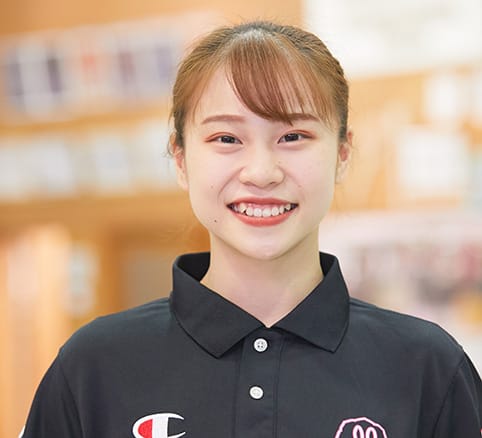 Born on September 19, 1999. From Osaka Prefecture. Member of the gymnastics club at Mukogawa Women's University.
Influenced by her parents and older sister, she began gymnastics at the age of four. In 2014, as a junior high school student, she won the individual all-around title at the All-Japan Junior Gymnastics Competition. In 2015, she won the individual all-around title at the 54th NHK Cup Gymnastics Championships and was selected to the Japanese national team for the first time.
2015 6th Senior Artistic Gymnastics Asian Championships: Women's team and individual all-around champion. 2016 Rio de Janeiro Olympics: Women's team, fourth place. 2020 74th Inter-collegiate Artistic Gymnastics Championships: Individual all-around champion (second consecutive title). At the Tokyo 2020 Olympics, her second consecutive Olympic appearance, she placed fifth in the women's team event.