I'll do what I have to do now, I'll do all I can do
Pushing the limits of what has yet to be seen
August 17, 2022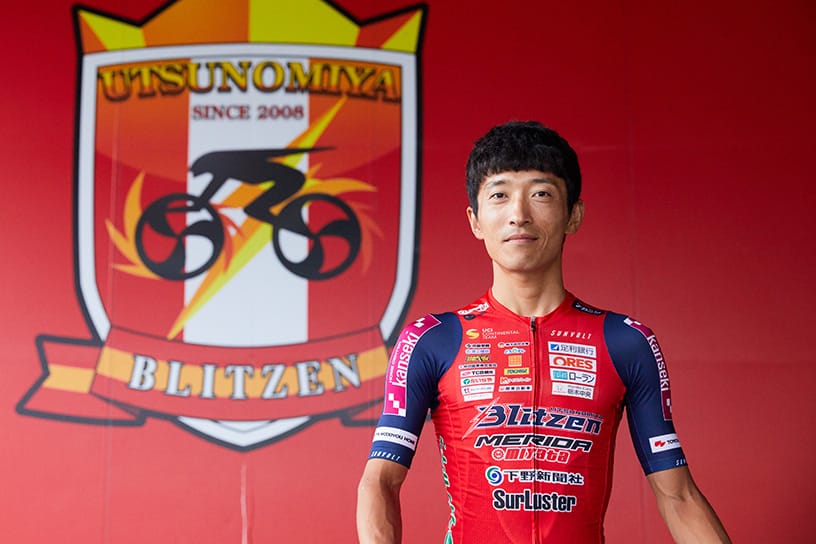 There is drama in losing, as well as winning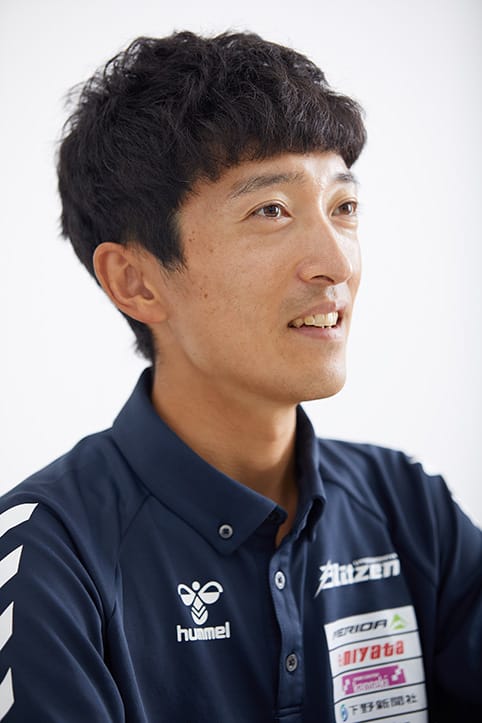 ITO: How did you get started in cycling and what other sports, if any, were you involved in?

Masuda: I have been involved in baseball since I can remember and was a member of a local club from 1st to 3rd grade of elementary school. I moved to a new address when I was in the 4th grade, just as the J. LEAGUE was starting, and from then until the 6th grade, I played soccer. In junior high school, I started playing soft tennis, which my father played, and I was pretty good at it. I felt like that I had completely burned out playing soft tennis, and I wanted to do something different next, then I went on to high school. But in my first year of high school, the coach invited me to play during spring break, and I continued playing soft tennis.

Meanwhile I watched an international road cycling race on TV. At the time, I knew bicycle racing, but I remember being shocked to see such a long distance race, crossing mountains such as the Alps and the Pyrenees. That was the spring of my second year in high school, and I immediately thought to myself, "I want to ride a bicycle! I want to buy one!" and I used the money I had saved up to that point to buy a road bike.

That was when I quit soft tennis and started riding bicycles. My high school did not have a cycling club, so I practiced with college students and adults at a bicycle store club.
ITO: You were so strongly attracted to the world of road cycling race that you purchased a road bike with your own savings. What do you find attractive about road cycling race as a sport?

Masuda: I am working on it as a competition, but I would like the bicycle to be a means of transportation. Apart from the racing, there are many good things about bicycles. For example, you can go far on your own legs, and you can climb mountains if they are paved. The view from there is spectacular, and you can feel the exhilaration of riding with the wind in your face with all five senses. I believe that the competition is beyond that good feeling.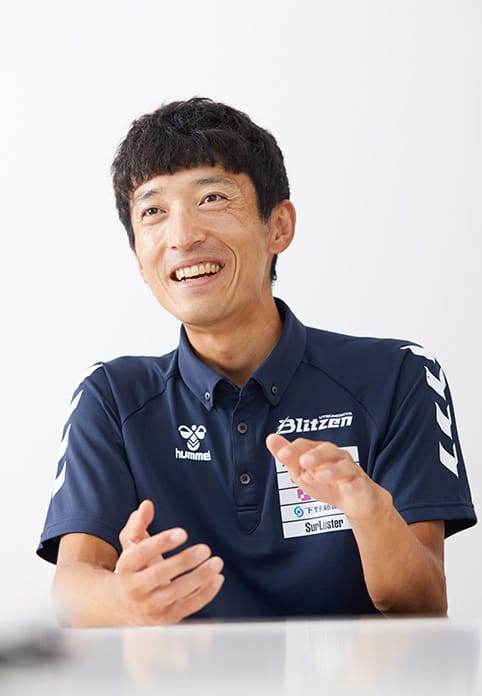 Of course, I join races to win. In soccer, baseball, and other sports, teams decide who wins, but in a road cycling race, if 100 cyclists compete, only one can win. In other words, the joy of winning is hard to experience. Every day, you have to build up your practice, even though it is a simple and painful process, and after overcoming it, you will run dozens of races. Some athletes still cannot win, but that is why the joy of winning is so great at the moment of victory. I can truly feel that "I have come all the way for this day.

But you don't have to win. Depending on the event, road cycling races are run by teams of six to eight riders, and the winner is chosen from among them. The team members assist the winner at their own risk, and it is the work of these assistants that makes the team win. The spotlight tends to focus only on the winner, but in reality, there is also emotional drama and interaction with the opposing team. I believe this is where the appeal of the competition lies.
Growth gained as a result of injuries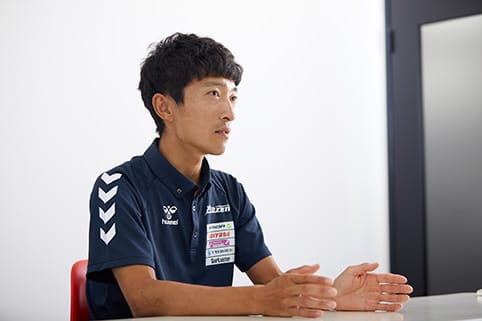 ITO: What were the turning points for you in the competitions and experiences you have participated in the past?

Masuda: I moved to UTSUNOMIYA Blitzen in 2011, and in the fall of 2010, I took on a project to challenge the Japanese record for human-powered aircraft. I was flying over the ocean and the wind got the better of me, and I fell from a height of about 15 meters and was seriously injured. I entered the JAPAN SPORT COUNCIL and spent days undergoing extremely rigorous rehabilitation. Of course, I cannot ride a bicycle. I was searching for what I could do, not knowing if I was making progress or not, but just working on the menu one day at a time.
Then I moved to UTSUNOMIYA Blitzen and gradually started to ride the bicycle again, and I began to feel that I was getting stronger than before my injury. In fact, until then I had never won a single competition. But that year, I was able to win a domestic race for the first time during May and June, which resulted in a total of three wins. After that, I was able to win consistently. I feel that it was because of my injury that I was able to peel off my skin and grow.
Diet and time usage are important to maintain condition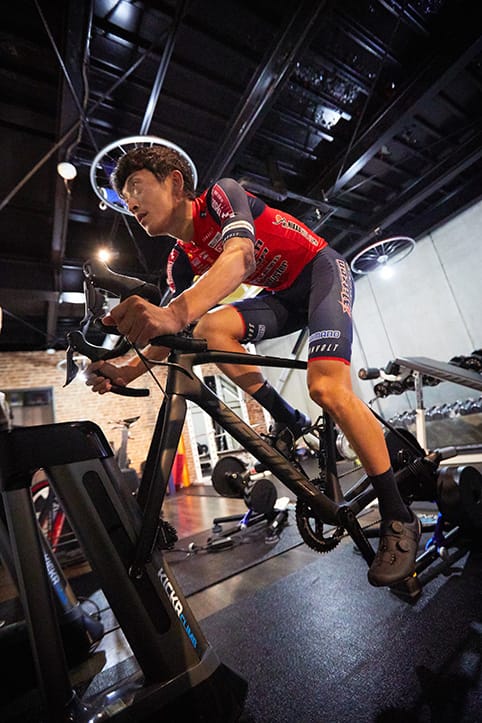 ITO: I guess the time you spent to face yourself during the period when you could not ride bicycle helped you grow. In addition to injury prevention and treatment, I believe that daily conditioning is also essential in competition. What specific points do you pay attention to?

Masuda: In my case, I participate in 40 to 50 races a year. There are also stage races such as the Tour de Hokkaido and Tour of Japan, for example, the Tour of Japan is an 8-day race where the overall winner is decided. Basically, our annual training is centered on the Japanese National Road Race Championships in June and the Japan Cup Cycle Road Race held in Utsunomiya, our hometown, in the fall. In addition to these races, I also train and make adjustments for international races such as the Tour of Japan and the Tour de Okinawa, where points are awarded.
The most important aspect of conditioning is where to take time off. It is impossible to be at peak performance all the time, and if you keep squeezing your body all the time, your immunity will be weakened. Even if you can achieve peak performance temporarily, it will not last. There are times when we train to generate power, and we also have training camps at high altitudes. It is important to maximize the effects of training while also taking good rest.

I am especially careful about my diet. I love to eat, and even though I know I shouldn't, I sometimes eat sweets with a sense of guilt. It is an occupation in which the body is very important than the ordinary persons'. That is why I am very careful about what I eat and what I put into my body on a daily basis. If you take in bad food, it can lead to injury.

Of course, physical care is also essential. Especially when cycling, the iliotibial band and the knee area are prone to inflammation due to repetitive motion. I make an effort to take good care of these areas. After training, it is important to let my body recover and get ready for the next day. In order to get a good rest, I actively take a bath and do self-massage.
ITO: While you participate in so many races, conditioning to maintain performance is very important. By the way, is there anything you currently feel is a challenge and are working on for that?

Masuda: During the off-season around January and February, my mileage exceeds 3,000 km per month, and closer to the season, such as April through June, I do more "hard training" than "distance training," but it is still about 2,500 to 3,000 km. I am now 39 years old, and there are not many areas where I can dramatically improve. Rather, the challenge is how to slow the rate of decline. This is the challenge. For example, how much time I can devote to competitions while younger athletes are out playing. It is important to use time in such a way as to rest the body without using physical strength as much as possible.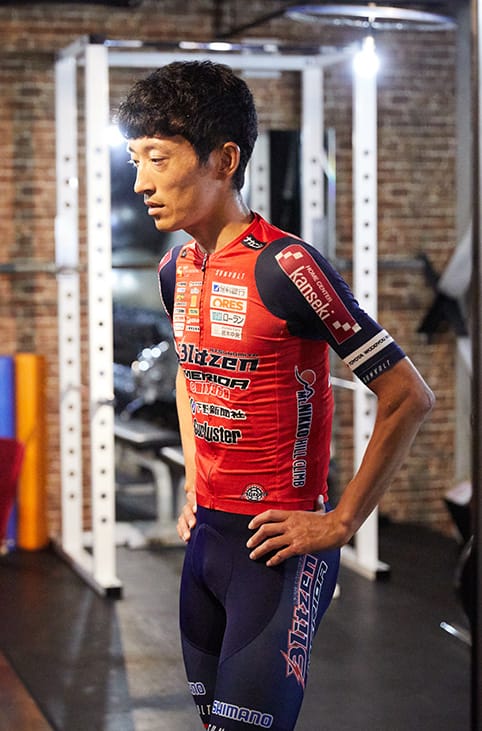 ITO: I know you have children, so please tell us how do you manage to ensure the time you spend with your family.

Masuda: When I am at home, I do not play with my children outside, but rather with them reading picture books and other activities that do not require physical exertion, and then they have grown up to be more of indoors type of children and read a lot of books. I also invite my family to the Tour de Okinawa, the last race of the season, for example, and we sometimes travel and then return home after the race. During the season, it is very difficult for them to do fun things like traveling. I probably get home earlier on weekdays than most office workers, but that doesn't mean I can take them anywhere.

There was once an active recovery day that ended with sweating it out on a bike ride. I brought home a road bike for the kids and cycled for an hour or two with them on my city cycle. The smiles on my children's faces are also a great motivation, so this kind of time is very precious.
Treatment devices are a must after an injury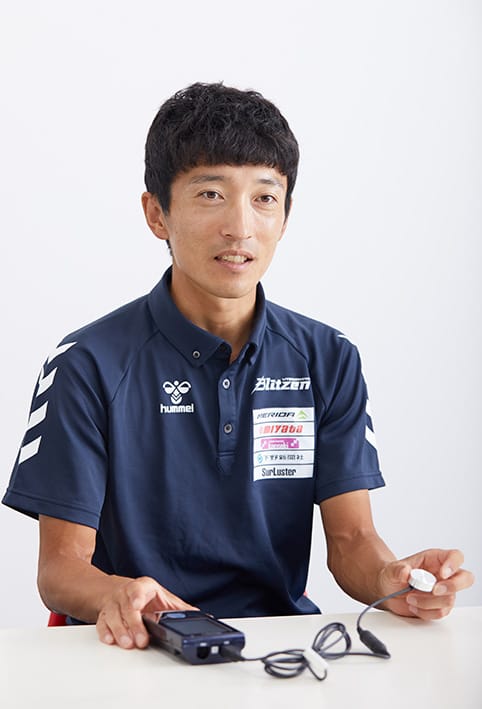 ITO: When was the first time you used this treatment device for self-care? Please tell us about it along with its actual use.

Masuda: I had never used a treatment device until I was injured. The first time I used it was in 2009. During training, an unleashed dog appeared and I fell while trying to avoid it. I broke my pelvis and collarbone and had to spend about a month in therapy. At that time, the osteopathic clinic where I was getting massages had some treatment devices. I was given detailed instructions on the frequency and pulse duration settings of the ultrasound therapy devices, which is how I first encountered them. I found out that these devices are also installed in large hospitals such as orthopedic clinics. Now, I am very familiar with them and find them indispensable.

Since then, I have been using the treatment device whenever I get injured. Before, for some reason, I had Achilles' tendon pain even though I am a cyclist. Even then, I applied a treatment device at home to treat it. I also use the treatment device when I have a bone fracture from a fall during a race, because I break bones very often. I think the actual use of the device is speeding up the recovery process. When I was injured during a human-powered flight in 2011, I applied the device every day. My trainer told me that it is not enough to just use it, but I did it twice a day, once in the morning and once in the afternoon. Sometimes I use ultrasound therapy device followed by microcurrent treatment, etc.
Other times, when I broke my lumbar spine around 2018-2019, I wasn't sure if I was applying the treatment device properly myself. I was worried so I had it marked with a felt-tip pen and asked my wife to apply the treatment device every day. When I use the treatment device in this way, I feel positive and calm that I am doing everything I can and should be doing right now.

You can't really feel if the treatment device is actually working or not. But it's been scientifically proven, and it's been said that it shortens the time it takes for fractures to heal. So I think, "If I had not applied the treatment device, it would have taken longer to heal. It is hard to believe in something unless it is proven or the evidence is clear. I may use a product if I feel a real effect after trying it, but there are many questionable products in the world. In that respect, I feel safe using this product.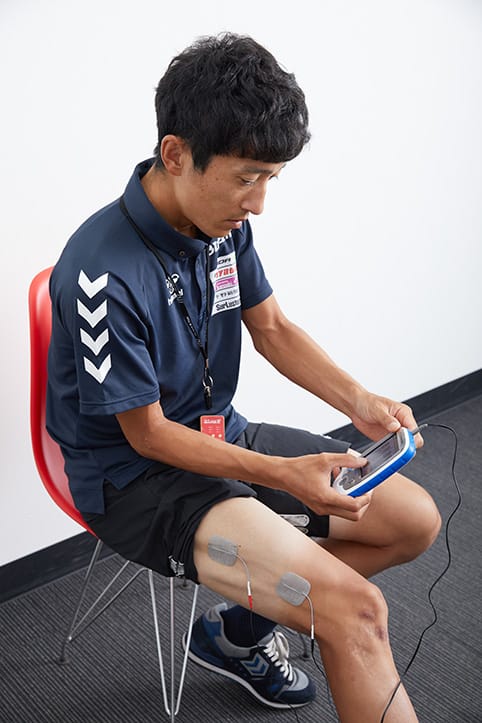 ITO: How do you collaborate and work with your trainer in your daily training and conditioning?

Masuda: If I feel any discomfort in my body, I go to my trainer immediately. It wasn't until last year's international competition that I had my training itself looked at. Currently, I consult with my trainer when I have physical problems. He is the one who treats me with exercise therapy to relieve pain, etc. He always tells me about various things. I also talk to him about treatment devices as a kind of second opinion. For example, how to apply ultrasound and what happens when the settings are changed. I always ask him about the settings and how to use them, because the effect changes depending on the output.
Will keep trying until the time I can't win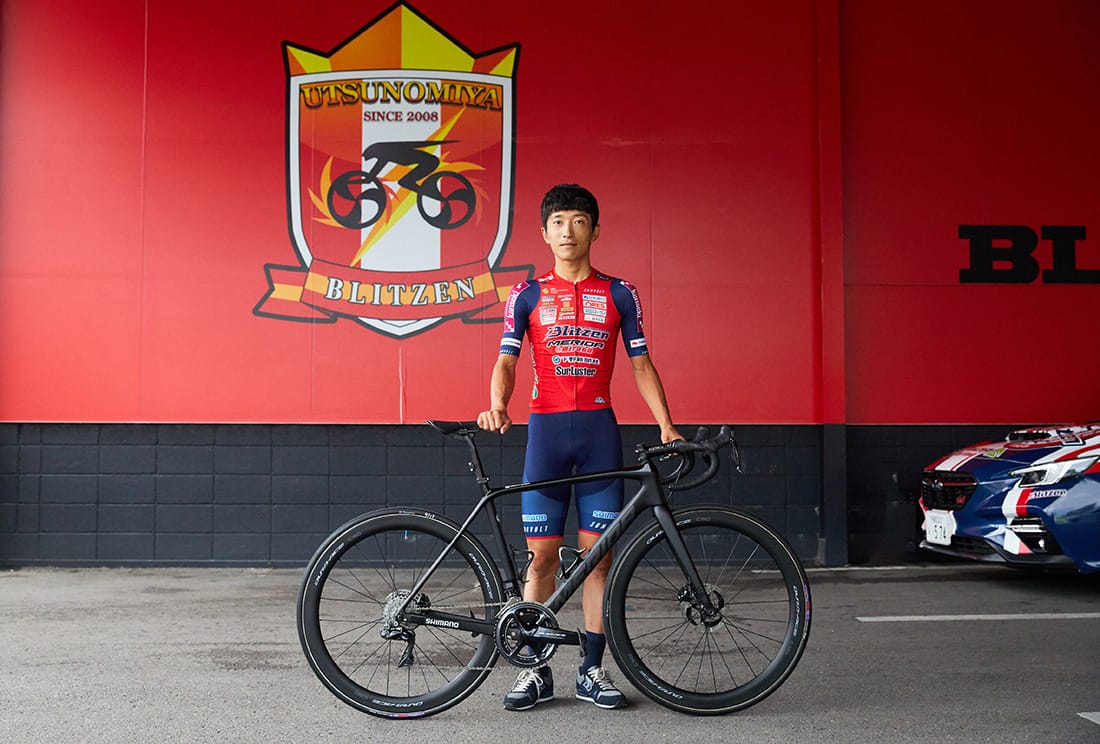 ITO: You mentioned your age earlier, but what do you want to achieve as a competitor in the future, or what are your goals and aspirations beyond that?

Masuda: I may have already passed my peak as a competitor. But I am not thinking about what I will do after I retire from competition. I want to challenge myself to the limit of what I can do at my current age, rather than thinking, "This is about what I can do now," or "This is about as good as I can do.

In 2021, I had an international race that was my big goal, and I was able to devote myself to it. So I would like to find a new goal and challenge myself again. But to be honest, it may be difficult to have a goal beyond that race. After the race, my motivation was very low and I couldn't work hard even if I wanted to. I could be somewhat active in the race, but I asked myself whether it was okay to feel that way, and I even thought it would be better to retire because I could not allow myself to feel that way.

I always think about when I should retire. But first of all, I have to push myself to the limit each year and finish the race. If I am beaten by younger players and the time comes when I can no longer win, then I will be able to quit with a good feeling. In that sense, I am sure that the younger players will tell me when it is time for me to quit.

Also, having had a family and children makes me want to teach many children the joy of riding a bicycle. I want to spread the feeling of "wanting to go far away" and "being the wind" before competition, not only to my own children. Even now, I have opportunities to interact with children on my team, and I sometimes train with middle and high school students. When I do this, I actively talk to them and work with them while interacting with the children who will lead the next generation.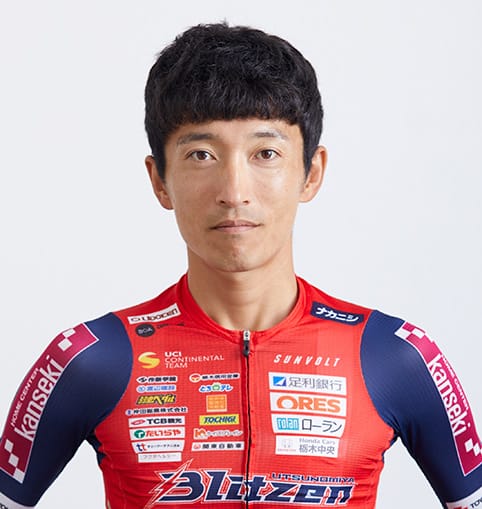 Born on October 23, 1983 in Miyagi Prefecture. A road cycling racer belonging to UTSUNOMITA Blitzen.
Started cycling in his second year of high school. In 2006, while he was in the school, he signed a contract with Team MIYATA and began his career as a professional road cycling racer. After working for Equipe Asada and Team NIPPO, he moved to UTSUNOMIYA Blitzen in 2011.
Despite repeated injuries, he won numerous titles and finished 20th in an international race in Spain in 2020, earning a spot on the Tokyo 2020 Olympic team.