Aim to become an injury-free player to contribute to the team
Player and trainer working together to achieve growth
Ayaka Sugiura, player / Manami Komatsu, trainer
September 28, 2022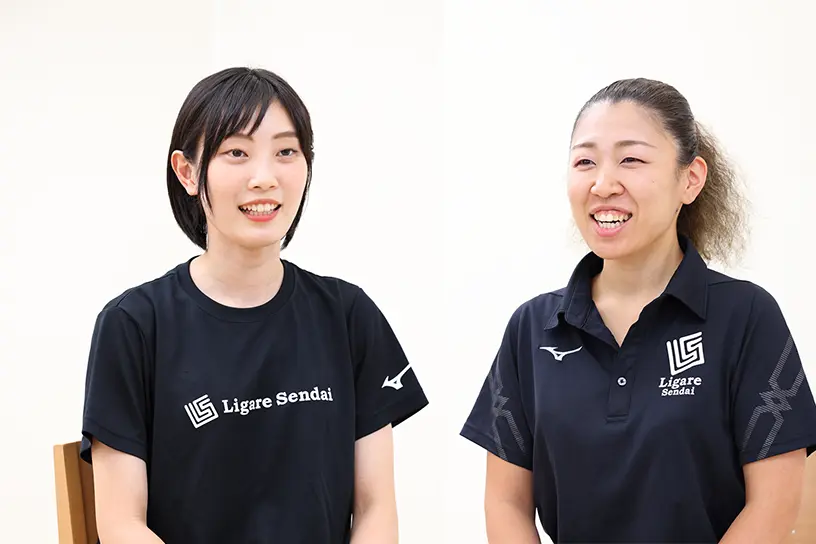 Ligare Sendai: Where the two met as player and trainer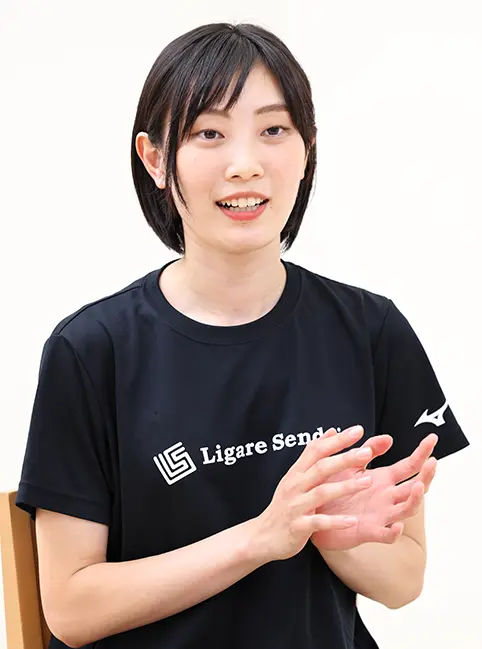 ITO: Can you tell us how you got started playing volleyball?

Sugiura: When I was in elementary school, I went along with my mother and saw her play in a PTA volleyball game. A junior high school student who'd been above me in elementary school was there. She asked what I planned to do in junior high school. I was playing basketball at the time, but the junior high school was strong in volleyball, so I joined the volleyball club because I wanted to compete at a higher, more serious level. In my third year of junior high, I participated in the JOC Junior Olympic Cup as part of the team representing Aichi Prefecture, and that experience made me want to compete at a high level in high school as well. I went on to Okazaki Gakuen High School, which competed regularly in the Spring High (All Japan High-School Championship held each spring), and took part in the Spring High, the Inter-High (All Japan High School Athletic Federation tournament), and the Kokutai (National Sports Festival of Japan). Then I enrolled in Aichi Gakuin University and played in the league's first division.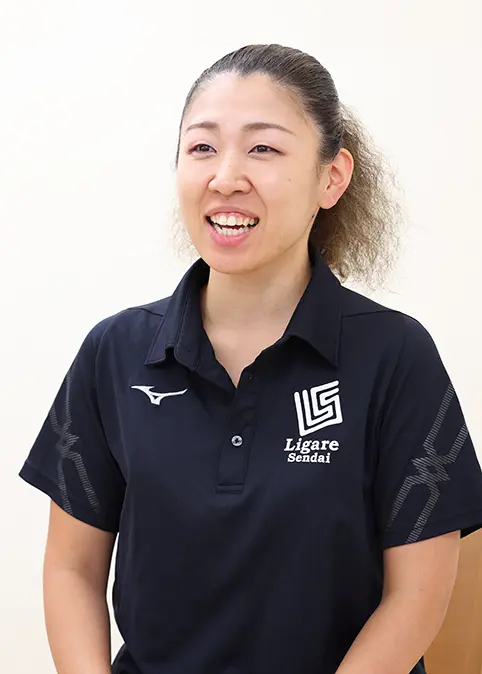 ITO: Ms. Komatsu, what persuaded you to become an athletic trainer?

Komatsu: Simply put, I wanted to do something that would allow me to experience a sense of common purpose with the people around me. We were a volleyball family, and my father coached youth and PTA volleyball teams. So, naturally, I played volleyball in elementary and junior high school, but after entering Tomiya High School, I played on the team until the prefectural qualifiers for the Inter-High in June of my freshman year, but then switched to a backup role, to assist the team as needed. We had a strong group of players, but no assistant to support them in the first year or two, and I thought if I took on all the behind-the-scenes tasks, we would improve as a team. That was the sense of mission that motivated me. The head coach was incredibly appreciative and gave me the green light to do whatever I thought the team needed. So I started buying books on training, stretching, taping, and so on, just trying to figure out how to help all the players shine even brighter on the court. I threw myself into this role, and I loved this behind-the-scenes work so much that I enrolled in a vocational school after graduation and got certified as an athletic trainer.
ITO: How did you join Ligare Sendai, and how did you start working with Ligare Sendai as a trainer?

Sugiura: At first, I was looking at various teams, but when I saw Ligare Sendai's website, I found myself interested in the team concept, which the site describes. The tryout also gave me a very positive impression, and that's when I decided I wanted to stay here and work with them.

Komatsu: After qualifying as an athletic trainer, I went on to study at a vocational school, where I qualified as an acupuncture, moxibustion, and shiatsu practitioner. While attending school, I also worked at an osteopathic clinic, and after working there for four years after graduation, I struck out on my own as a freelancer. Head Coach Arisa Sato approached me around that time, and I joined Ligare Sendai in 2019-2020. I'm the same age she is—we first met when we were around 20 years old. She was on the women's volleyball team at Tohoku Fukushi University, and I started working as a trainer for them after being approached by another trainer there, whom I already knew. Even though I was a student, I managed to gain the same experience as a professional thanks to Ichiko Sato, who was the head coach at the time. Thanks to that connection, I was approached by Head Coach Arisa Sato, who'd decided to work in Sendai for the first time in a decade.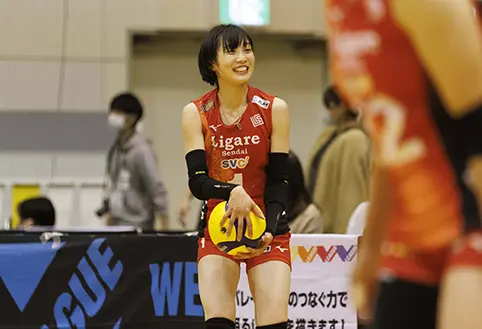 ITO: Now that you've actually joined the team, what do you find appealing about Ligare Sendai?

Sugiura: In Latin, ligare means to connect, and as this name suggests, our team is built on the notion of community service for local people and the people who support the team. Everyone on our team is independent, ambitious, and individualistic. Head Coach Arisa Sato, who also plays on the team, helps bring out these traits even more. She tells us what we're free to do, but also what we have to do, then gives us the opportunity to say what we think. So it's an environment where everyone feels comfortable sharing their views. Even opinions from those who aren't team regulars are respected, which helps us function as a team and inspires us to play an active role within the team.
ITO: Can you tell us about your job, including your daily schedule and training?

Sugiura: My job is supporting children with disabilities at an after-school facility. My main responsibility is picking up the children from their school, either a special school for children with disabilities or a regular elementary school, and I help them with their homework and complete the other activities planned for them that day at the facility. At around 6:00 p.m., I start doing stretches, and then practice until about 9:00 p.m. I basically have one day off a week, but sometimes when there's a league or tournament game on my off day, I can't take that day off. I try to maintain a good balance by doing things to recharge when I'm not working so I can focus when I'm practicing. I like hot springs, and Miyagi Prefecture has a lot of them, so I've been to Naruko, Akiu, and Togatta. Additionally, depending on gymnasium conditions, sometimes we can't practice together, so at such times we practice or train individually, working on things we need to strengthen.

Komatsu: A lot depends on the team's schedule, but I check on their performance during practice, both on weekdays and weekends, and work on their conditioning, which involves treatment and training, outside of practice time. The players work on weekdays, so I use all the time slots when they don't have practice to go out and treat patients. I'm also an instructor at the vocational school I used to attend.
Effectiveness of treatment equipment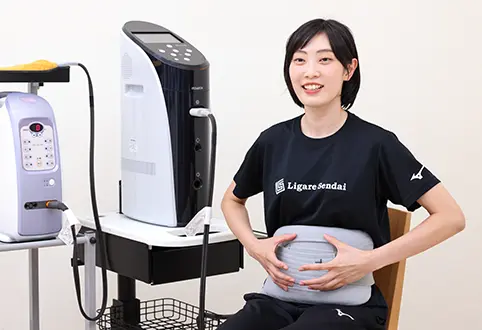 ITO: I think managing your day to day condition is important for high-quality training. Are there any specific things you do or pay attention to?

Sugiura: I try hard to practice self-care on a daily basis to avoid fatigue. When I get tired, I often get a heavy feeling in my legs and in my shoulders and neck. At such times I do some stretching or apply electrical muscle stimulation to relax my muscles. I also self-massage using a Stretch Pole® or tennis ball.
In addition, since my body gets cold, I like to get it warm by using a shortwave therapy device before going to bed, and getting acupuncture and moxibustion at an osteopathic clinic. I tend to get severe menstrual cramps, so I take painkillers. I wear belly wraps and leg warmers, take hot baths, drink warm drinks, and try to stay in the bath longer than usual.

I also pay attention to my diet. I love rice and noodles, but I'm trying to eat more meat, fish, and vegetables.

Conditioning is really important for competing successfully. The most important thing is avoiding injury. An injury sends all your hard work right down the drain. It's frustrating to get injured and miss opportunities or be unable to compete. It's something you have to avoid. It's vital to be in the kind of shape that minimizes the likelihood of injuries. I was also interested in facial and body treatment and qualified as an esthetician. I guess it's different from conditioning, but the aspect I find interesting is learning how the body works.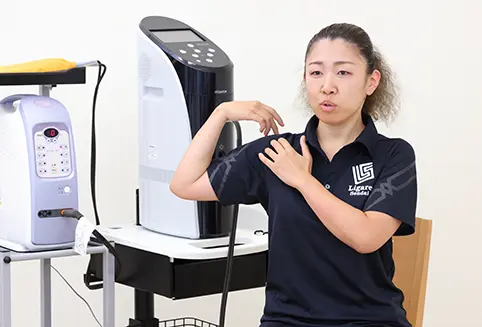 ITO: Ms. Komatsu, what kind of physiotherapy do you incorporate into the treatment you provide? Can you be specific? Can you tell us about any specific instances where you've seen physiotherapy to be effective?

Komatsu: I believe treatment equipment really improves player conditioning. In fact, we've had no major injuries this season. I also feel the home treatment equipment has had a positive impact on their day-to-day health management and their sleep.
The players use shortwave therapy device when they're on the road. Each of them uses the device in turn for 20 minutes before bed. The small microcurrent therapy device is used to treat the minor injuries that always crop up or in emergencies. In addition, the EMS device is used for initial rehab before returning to practice or if the muscles can't contract. Applying the device while training makes it possible to actually use the muscles. Last season, they used microcurrent therapy to accelerate healing and EMS to stimulate muscle activity. Middle blockers often experience shoulder pain, and they're lifting their arms all the time, so they use microcurrent on painful areas and EMS to boost performance around the shoulder blades.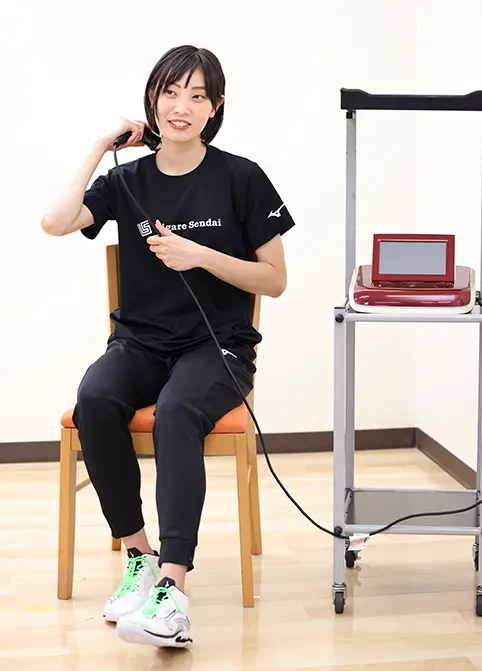 ITO: Ms. Sugiura, can you tell us about any episodes where you've the treatment equipment has proven especially effective?

Sugiura: When I use the shortwave therapy device during the winter, I realized just how effective it is. Until I started using it, I used to fall asleep cold and shivering, but the shortwave therapy device warms me from the core and helps me fall asleep faster.

When I've used a shortwave therapy device after an injury, I find that when I did stretches or other activities afterwards, both getting loose and stretching are easier. When I pulled a muscle awhile back, I felt uncomfortable just walking. Repeated stretching using the shortwave therapy device made it easier and easier. My treatment mainly involved acupuncture and moxibustion, but using the shortwave therapy device alongside those treatments, I noticed a big change in the speed of recovery.
When I have spare time—for example, when an injury is almost healed—I apply it to my shoulders. Self-massage just loosens up the surface. The shortwave therapy device is super convenient because the waves penetrate and work on the muscle fibers deep within.
Daily use of the shortwave therapy device at home
ITO: How long have you known about ultrasound and shortwave therapy devices?

Sugiura: I've been familiar with small microcurrent therapy devices for awhile now. They've even been introduced in high schools, but I never used them in high school myself because I never got injured. I used one for the first time fairly recently. It's small, and the cord is long enough to reach your ankles, so it's easy to use. When I was injured, I used it throughout the treatment period.

I first used the shortwave therapy device in the league and at training camps. But when I talked to Ms. Komatsu about my body coldness and difficulty in gaining weight, she said, "Why don't you use it at home on a regular basis?" So now I use it at home.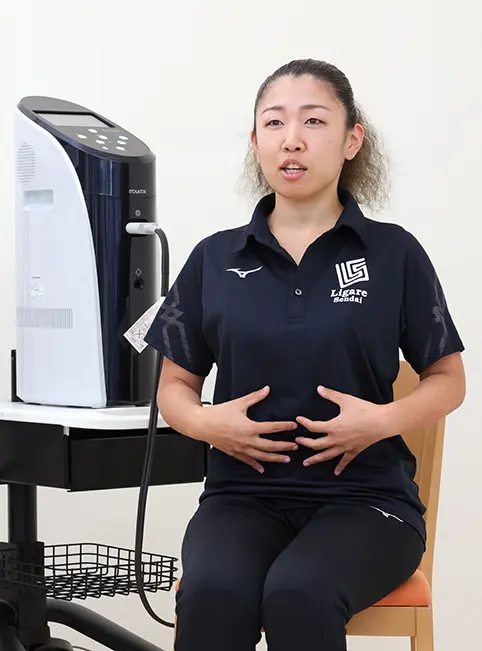 Komatsu: Ms. Sugiura has a hard time building muscle even though she eats and trains. So we've loaned her treatment equipment to help with her digestion and nutrient absorption. InBody measurements show positive results for the last two to three months. The effect isn't immediate, but there's been a measurable increase in muscle mass.

I first encountered the shortwave therapy device at the beginning of last season, and I remember thinking right away it was an absolute must for our team, as it warms the body from the core, so I'm glad we introduced it.
ITO: How do you use the shortwave therapy device daily?

Sugiura: I apply it for two 30-minute sessions before going to bed. If I don't have time, I do just one 30-minute session. Before, when it got cold, I couldn't sleep unless I warmed my bed up beforehand with a hot water bottle. Since I started using the shortwave therapy device, my whole body feels warmer, and it's easier to fall asleep.
The device warms me up really quickly. It's a great way to warm up before bed during the winter or cold snaps. I recommend it especially to women. It's fantastic for maintaining your health.
Having treatment equipment around helps players learn to pay attention to their bodies
ITO: Do you ever ask Ms. Komatsu for tips on conditioning?

Sugiura: Yes, we're pretty much always in touch. I have monthly sessions with her. I tell her what areas I want to strengthen to prevent pain. She massages those areas and makes it possible for me to train and strengthen those areas. Beyond that, she's available to listen to me when there's something I want to do or if I'm worried about something. She supports me via LINE chat or over the phone. I've also asked for her advice about my body getting cold.

Komatsu: Feeling cold is a common problem among women. Feeling cold also affects the autonomic nervous system and mental health, and it's closely connected to immunity and natural healing. All of that makes it essential to take appropriate steps to maintain conditioning.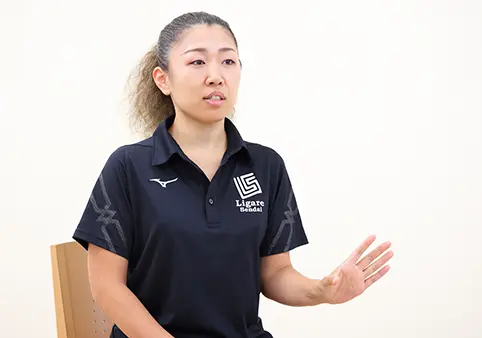 ITO: Ms. Komatsu, how do you expect physiotherapy to help players?

Komatsu: An athlete's body is his or her instrument. But a surprisingly number of athletes don't know how to stay in tiptop physical condition. In a way, that's not surprising, since they don't know how their bodies work. But if they don't know why they're feeling good or bad, it makes it that much harder to achieve their peak performance. Or, if they do achieve it, they find that level of performance hard to maintain. So after listening carefully to the players to find out what's bothering them, I do what I can to ensure they don't over-rely on one specific therapy, and try to get them to notice the changes the treatment equipment promotes. Once they've tried in several times, the players find what they need to do at a given moment and find their own approach to conditioning.
Being injured or not in optimal condition doesn't feel great. But it's actually a great time to turn your weaknesses into strengths. Of course, players will feel really down in the dumps, but learning to focus on the why helps them take the next step for body, mind, and outlook. My hope is that gaining this kind of self-awareness will give them the capacity to understand what they need to do.
Contributing to the team and becoming a successful player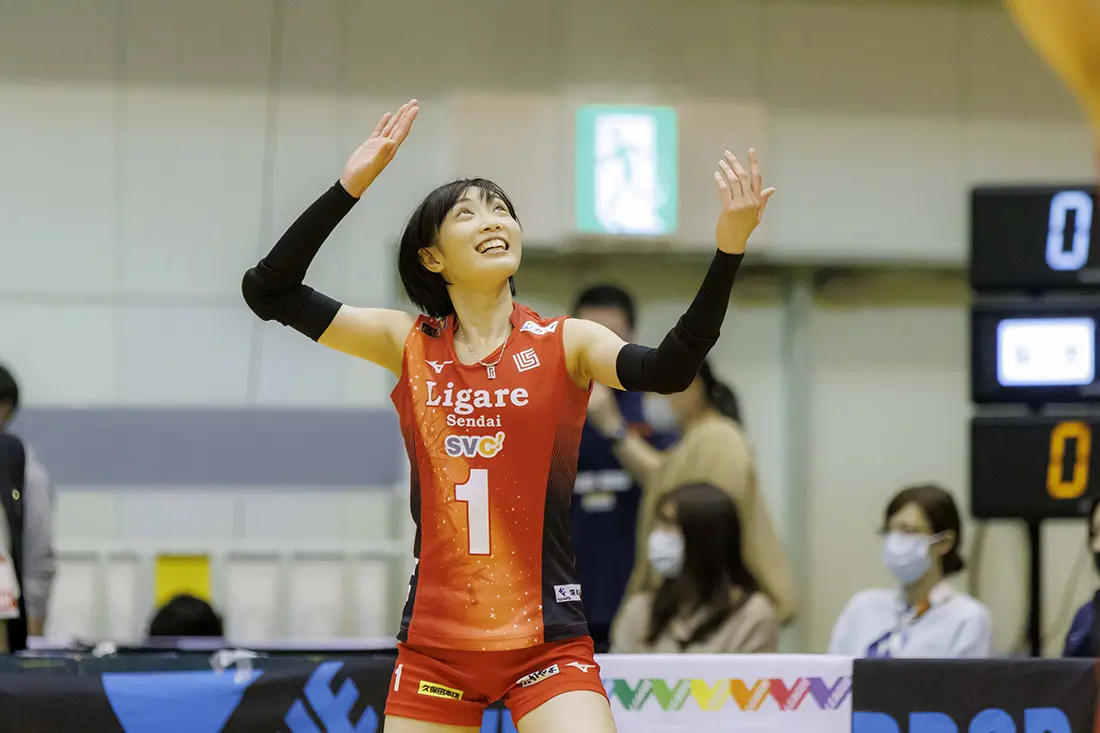 ITO: Ms. Sugiura, what do see as your current challenges?

Sugiura: I'm skinny, so it's hard for me to impart real power to the ball. Sometimes I hurt myself when I handle the ball with odd movements. I think I need to develop the ability to maintain correct form at all times. Besides that, I have to get better at flexing and extending from the hips. Leg injuries are common if you jump using just your legs. I'm focusing on achieving an ideal jump motion. Using the buttocks (gluteal muscles) helps you stay airborne longer.

I'm prone to sprains, so I also pay close attention to my feet that serve as a base for jumping. I've built up a bit more muscle mass in my lower body, but my upper body is still fairly weak, so I'm taking a long-term view and working to strengthen my upper body. It's also a challenge to work on building a body that does not get injured easily and to link the movements I want to be able do with an image of me actually moving my body.
ITO: Ms. Sugiura, can you tell us about your future goals?

Sugiura: When I practice or compete, I'm thinking about what I can do to contribute to the team. I'm slender, so a major task for me is increasing my power. Even so, I also want to think about how to use my body to take advantage of my slim frame, and at the same time I want to hone my conditioning so that my body does what I it to do. I want to do my best to make the team feel they need me if they want to win. I want to contribute in any way that I can, and even if my contributions are modest, I want to be a player who can go out onto the court in any situation. To that end, I believe that one of my talents is avoiding injury. First, I want to be able to play a full game in my own position. And I'd like to acquire the ability to play other positions.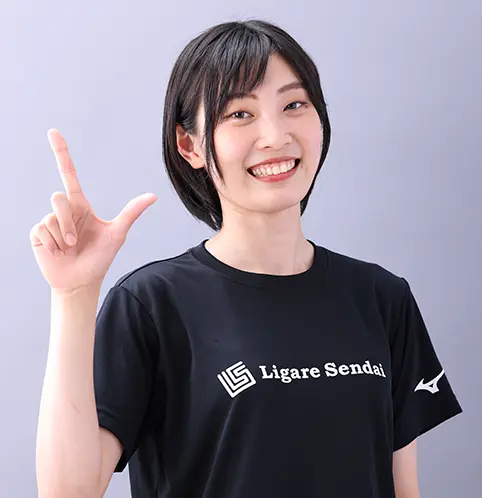 Born July 31, 1998 and grew up in Aichi Prefecture
She started playing volleyball in junior high school. In her third year, she was selected to represent Aichi Prefecture in the JOC Junior Olympic Cup. This experience inspired her to compete in a higher-level environment. For high school, she enrolled in Okazaki Gakuen High School, renowned for the strength of its volleyball team. She took part in the Inter-High (All Japan High School Athletic Federation tournament), the Kokutai (National Sports Festival of Japan), and the Spring High (All Japan High-School Championship). After playing volleyball at Aichi Gakuin University, she joined Ligare Sendai in 2021. She plays as middle blocker, a key defensive position.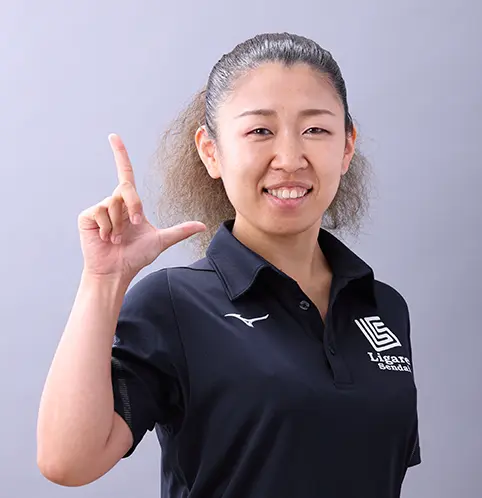 Born May 23, 1989 and grew up in Miyagi Prefecture
Japan Sport Association Certified Athletic Trainer / Anma massage shiatsu therapist / Acupuncture and moxibustion therapist
She played volleyball in elementary and junior high school. In her first year of high school, a sense of duty compelled her to switch to a backup role assisting the team. She studied on her own in high school and later qualified as an athletic trainer at Sendai Resort and Sports College. Soon afterwards, she obtained qualification as an acupuncturist/moxibustionist from AKAMON Oriental Medical College. After working at an osteopathic clinic, she opened mana∞mana, a salon specializing in off-premises treatment. The salon offers completely customized treatments tailored to address individual concerns, including massage, acupuncture, moxibustion, and exercise, in and around Sendai. Since the 2019-2020 season, she's also worked as a medical trainer for Ligare Sendai.